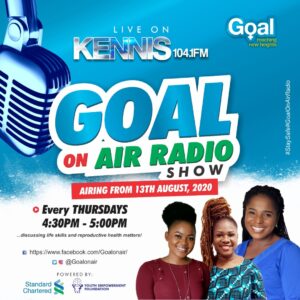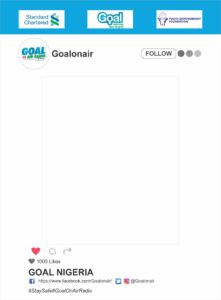 Goal project uses Sports (Football and Taekwondo) and Life skills education to transform the lives of adolescent girls in Nigeria.  Established in Nigeria since 2010 by Standard Chartered Nigeria in partnership with Youth Empowerment Foundation, Nigeria, Goal has reached out to over 100,000 adolescents young girls as at December 2019 in Nigeria.
The program is divided into four modules (Be Yourself, Be healthy, Be Empowered and Be Money Savvy) aimed at building leadership capacity of young persons globally.
The COVID-19 School lockdown has tremendously affected the academic process and predisposes young persons to all forms of challenges; gender based violnce (GBV), child abuse, hopelessness, hunger and rejection.
YEF has adopted Community Life skills outreach engagement  and palliative distribution strategies to reach out to adolescents and young persons (AYPs) in order to cushion the effects of COVID-19 and empower young persons with the necessary tools to improve their lives and decision making skills amid Coronavirus school lockdown in Nigeria
In our effort to further curtail the effects of COVID-19 on adolescents and young persons (AYPs) in Nigeria, YEF organized Goal on air radio show to sensitize young persons on Life skills, sexual and reproductive health & right (SRHR), gender based violence (GBV) and financial literacy. The radio show takes effect tomorrow, Thursday 13th of August 2020, 4:30pm on Kennis FM 104.1, Lagos
#Goalonair radio show is on Facebook, Twitter and Instagram. Updates, activities and live coverage will be conveyed using the established social media handles.
Facebook: Goal on air radio program
Twitter: @Goalonair
Instagram: @Goalonair
Stay tuned!??
#GoalNigeria
#Reachingnewheights
#Youthempowerment
#GoalonAIR
#Schoollockdown
#StaySafeStayhealthy